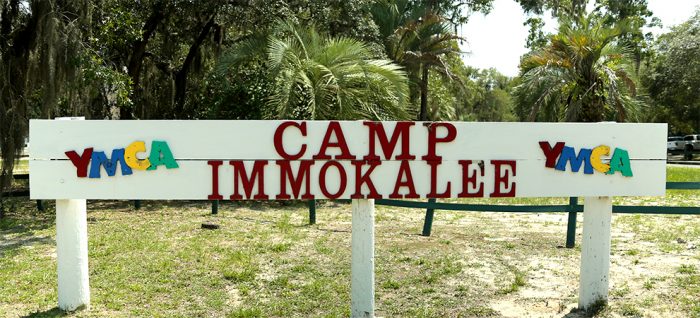 Camps & Activities
Camp Immokalee is a place of discovery. It might be learning balance a team on the whale watch, what part of the lake is best to drop your fishing line, or how to canoe against the wind. But the most consistent discovery we see, is in the campers themselves. At YMCA Camp Immokalee, our natural setting, engaging activities, and learning opportunities become tools to build character and leadership skills. Confidence grows, goals are achieved, and lessons learned are applied to new challenges and a larger world.
Camps
Camp Immokalee offers many year round opportunities for your child to begin a new adventure. From local, to international, Immokalee has served a great diversity of campers, meeting every need and making every day at camp unforgettable.
Camping, like many Y programs, is about learning skills, developing character and making friends. But few environments are as special as Camp Immokalee, our resident camp, where kids become a community as they learn both how to be more independent and how to contribute to a group as they engage in physical, social and educational activities.
Activities Include ( seasonal ):
Archery
Basketball
BB's
Campfires
Canoeing
Capture the Flag
Clay Models
Climbing Wall
Cooking
Crafts
Dancing
Dream Catchers
Face Painting
Festival Games
Fishing
Free Swim
Friendship Bracelets
Gaga Ball/Octo-ball
Horseback Riding
Kayaking
Kickball
Nature Arts
Polar Plunge
Rock Wall Climbing
Scavenger Hunt
Talentshows
Volleyball
Water Balloon Wars
Zip Lining
And so much more!
Camping teaches self-reliance, a love for nature and the outdoors, and the development of attitudes and practices that build character and leadership, and meaningful relationships. Y counselors are dedicated to making sure camp is an amazing experience for every camper. But don't take our word for it – watch the video below and let our campers speak for themselves.
Facilities
For overnight campers, Camp Immokalee offers separate air-conditioned cabins with restroom facilities for boys and girls. Onsite facilities also include an airinasium, dining hall, clinic, and camp store. Campers will have the chance to explore their creativity at the craft hut, cool off in the swimming pool, and participate in team sports on lighted basketball and volleyball courts. To add adventure and excitement, the camp also offers a 300 ft. zip-line, rock climbing, paintball field, and rifle and archery ranges. During the summer months, campers enjoy water sport activities on Lake Brooklyn including canoeing, kayaking and fishing.