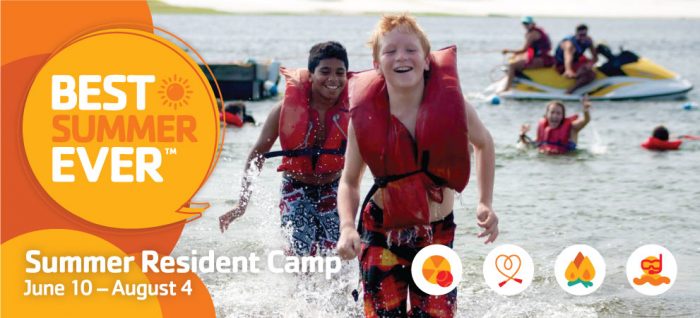 Summer Resident Camp
Since 1909, Camp Immokalee has been helping campers learn, grow and thrive, all while having the best summer ever. We do this by teaching friendship skills, helping kids learn and practice new and favorite activities, and by giving kids a safe and positive place to belong. Grit, gratitude and character are 21st-century skills every young person will need to succeed and our camp activities are carefully designed to deliver and to be fun.
Campers can choose from a wide variety of exciting activities that will help them discover more about themselves while building skills and having a blast. Camp features both a pool and a lakefront for swimming, canoeing/kayaking, and other aquatic activities. Campers can practice their focus and concentration at our archery, bb, and riflery range or choose to have a blast at paintball. Arts & crafts, songs and skits allow campers to express their creativity. Nature and outdoor living skills develop awareness, empathy and competencies for and in the beautiful Immokalee landscape. A zip line and challenge course builds teamwork skills and loads of self-confidence.
Plus, there is so much more for campers to learn about, explore and do. Fees include healthy meals, snacks, activities and a camp t-shirt.
Activities Include:
Archery
Arts & Crafts
BB's
Canoeing
Climbing Wall
Cooking
Evening Campfires
Fishing
Horseback Riding
Songs and Skits
Zip line
Nature and Outdoor Living Skills
And so much more!
Dates & Pricing
Registration Begins: February 1, 2018
Dates: June 10 – August 4
Ages: 7-15
Cost (per week): Members $530 / Non-member $582
Deposit: $150 per camper
Paintball: $75 (ages 10 & older)
Horses: $150 (limits/restrictions apply)
Saturday Night Stay-over & Saturday Night Trip: $160 add on
Weekly Themes
Week 1 – June 10-16
Frontier Week
Start the summer with a bang by travelling back to the Wild West and Pioneer days! A "gold rush" and Immokalee melodrama will test our pioneers as they compete to gain the title of "Kings and Queens of the Wild Wild… South East."
Week 2 – June 17-23
Olympic Week
A celebration of sports and friendly competition! Boys and girls will work together to form nations and compete in fun and wacky Camp Immokalee Olympics. Parades, prizes, and pride in your team will make every camper a winner.
Week 3 – June 24-30
Aqua Mania
Put the stop on summer heat and the go on camp fun with crazy and cool water games and sports. Ever play watermelon football in the lake? Well, if not, its time to come to camp and give it and many more silly and zany aqua themed activities a try.
Week 4 – July 1-7
Color Warz!
Each cabin will team up with one other cabin, be assigned a team color, and compete all week in fun activities to earn the Immokalee Color Warz team bragging rights! We will have color themed supplies available for sale at check in and the camp store, so no camper will be left out of their team color spirit.
Week 5 – July 8-14
Comicon
Let's explore the world of film, from acting to directing, camera work to editing. Who knows? Perhaps the next Ron Howard or Chris Rock is amongst us now!
Week 6 – July 15-21
Medieval Week
The past comes alive at Camp Immokalee when member of the Society for Creative Anachronism join our campers to demonstrate and teach about life in the middle ages! Learn chain maille work, calligraphy, watch sword fighting demonstrations – it's all here!
Week 7 – July 22-28
Back 2 Nature
Get your grit on, and test yourself in the Immokalee natural environment. "Survivor" style activities and competitions will teach outdoor and nature skills and be a blast. Campers will cook a dinner over a campfire, and take a field trip to our local state park.
Week 8 – July 29-August 4
Color Warz! Round 2
It was so much fun in week 4 that we just had to do it again!
Super Saturday Trips (ages 7-15)
June 16 – Wild Adventures Theme Park
Must be registered for weeks 1 & 2
June 30 -Ichtucknee
Must be registered for weeks 3 & 4
July 14 – Universal Island of Adventure
Must be registered for weeks 5 & 6
July 28 – Cypress Gardens at Lego Land
Must be registered for weeks 7 & 8
Registration, Forms & Parent Handbook
Learn all about Camp Immokalee in our Parent Handbook, including how to help your child prepare, payment information, a look into a day at Camp Immokalee, check-in and check-out procedures, cabin assignments, how to keep in touch, and more!
Please REGISTER and MAKE PAYMENT through the link below.
Register Online
Also, COMPLETE THE REGISTRATION and HEALTH FORMS, through links below.
Registration & Waiver
Health Forms
Parent Handbook
Please send all registration forms to this address:
Camp Immokalee Business Office
6765 Immokalee Road
Keystone Heights, FL 32656
Fax: 352.473.7106
Phone: 352.473.4213
Financial assistance is available for those who qualify.