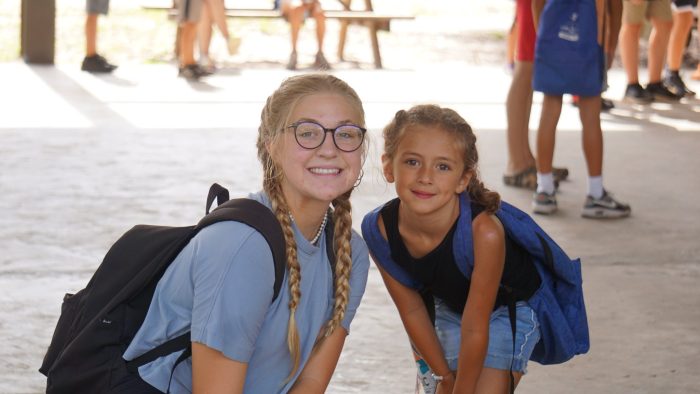 Teen Leadership/CIT Program
The counselor-in-training (CIT) program exists to help 10th, 11th, and 12th graders learn leadership skills and to prepare them to become counselors after graduation. CITs have a unique role at camp – they're no longer campers, but not yet staff. We want CITs to enjoy camp, the friendships, and the activities, but we're relying on them to be role models for our campers and helping hands for our staff.
CITs live in the cabin with 8-12 campers and two counselors. During the camp days, they'll help lead activities like arts & crafts, dance & games, land sports, archery, and more. They'll also work with homesick campers, help create excitement around camp, assist with basic cleaning and dishwashing, and more. The CIT program is dedicated to leadership development and teambuilding as well as child development and programming training.
Program Communication
Communication regarding the application process and the program should be between the applicant and the camp director. The most successful applicants treat the application and hiring process just like any job application. Parents should feel free to help in certain ways, like guiding the applicant in selecting references and helping them learn to professionally apply and interview. At the same time, please remember we seek candidates who are independent, mature and self-motivated. It is our hope that parents help cultivate these traits by allowing their teens to take full responsibility for their CIT application. Our goals are that all applicants to the Counselor-In-Training program gain valuable experience in the job application and interview process and that all our CITs gain skills that are applicable not only to being a camp counselor but to other aspects of their lives.
Parents will receive emails with updates about program fees, check in and check out times, packing lists, etc.
Summer 2024
Requirements to be Considered for Summer 2024 Participation
Must be in a rising 11th or 12th grade at the time of applying
Must submit an application and be selected
Must submit one letter of reference (first-time summer CITs only)
Must pay the accompanying fee
Must agree to the rules stated in the application packet
Must be able to attend the full CIT session (cannot leave Saturday between)
Must be able to attend the mandatory CIT Training Retreat (May 17-19)
Dates and Rates
Each session – $1,000.00
Session A (matches with Session 1 & 2) – June 2 – 15
Session B (matches with Session 3) – June 16 – 29
Session C (matches with Session 4 & 5) – June 30 – July 13
Session D (matches with Session 6) – July 14 – 27
Session E (matches with Session 7 & 8) – July 28 – August 10
Off-Season Season 2023-2024
2023-2024 Requirements to be Considered for Off-Season Programs Participation
Must be in 10th, 11th, or 12th grade at the time of applying
Must submit an application and be selected
Must pay the accompanying fee
Must agree to the rules stated in the application packet
2023-2024 Program Dates and Rates
| | | |
| --- | --- | --- |
| Program | Date | Fee |
| Halloween Camp | October 20-22 | $75 |
| Winter Camp | Dec. 31 – Jan. 6 | $325 |
| Spring Break | March 10-16 | $325 |
| | | |
As we add more and more off-season programs, this list may grow. Check back regularly for additional camps.
Application Process
The application linked below serves as an application for all off-season programs. Only one application is needed per year. Please read the application and application thoroughly before applying. Once finished, email the application to cimmokalee@fcymca.org.
Applications will be accepted on a rolling basis. To help ensure program quality, our CIT spots are limited and the selection process is competitive.