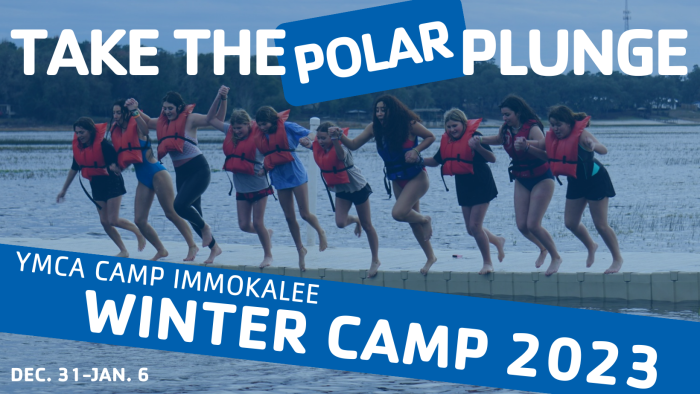 Winter Resident Camp
December 31, 2023 – January 6, 2024
Celebrate the most wonderful time of the year at the most wonderful place on earth, Camp Immokalee! Join us for a session full of holiday and New Year activities, including tried and true favorites like zip line, archery, and of course, the polar plunge.
Overview
After arriving on Sunday, campers will dive into fun! Filled with camp tours, introductions, and more, the first day of camp helps campers get ready for a full week of camp. On Sunday afternoon, we gather campers together for activity selection, where we explain all the activities that will be offered during the week and allow campers to create their own schedule.
During most days, campers will spend four hours a day with the activities they select on Sunday. The rest of their camp day is filled with three camp meals, rest period, camp store, all-camp activities (think big camp games – themed activities we all play at once), cabin time, and free time activities (like tie dye, themed activities, and more) that change daily.
We'll celebrate New Year's Eve with a night full of themed activities, ending with a kayak drop as we ring in 2024. We can't wait to have your camper with us!
Activities Include:
Archery
Treat Decorating
Target Sports
Holiday Crafts
Winter and Holiday Themed All-Camp Games
BBs
Zip Line
Polar Plunge
NYE Kayak Drop
And so much more!
Ages, Dates & Pricing
Grades: 1-10 (2023-2024 School Year)
Dates: December 31 – January 6
Member: $385
Non-member: $430
Horseback Trail Ride: +$25
Ranch Camp: +$150
Basic Information
Drop off for Winter Camp will be Sunday, December 31 from 2:00-4:00 pm.
Pick up for Winter Camp will be Saturday, January 6 from 9:00-10:30 am.
The packing list can be found here. Additional information will come via email. If you miss or misplace an email, all information sent out (including policies, procedures, etc.) can be found here.
Counselor-In-Training (CIT) Program
Grades: 10-11
Member & Non-Member Rate: $325
10-11th graders are invited to apply for our counselor-in-training (CIT) program. As a CIT, your camper will take on additional responsibility around camp and learn what it means to be a camp leader. This program helps participants see what it takes to become a camp counselor, and it also provides experiences that they can take into the real world.
The CIT Application for all of our off-season camps can be found below. Please read the packet thoroughly before applying. When finished, email it to Cole at cimmokalee@fcymca.org.
10th graders can choose to apply for CIT OR be a camper. 12th graders should apply for staff rather than the CIT program.
Registration
Registration will be available later this fall!
For more information about CampBrain along with FAQs, click here!
Financial assistance is available for those who qualify.
Questions? Email us at cimmokalee@fcymca.org.