Raggers Program
We at YMCA Camp Immokalee are excited to bring the decades-old tradition of Raggers to our campers. The Raggers program allows campers to set individual goals for themselves focused on developing stronger body, mind, and spirit. Rags are deeply embedded in the DNA of the YMCA, and Y camps across the United States provide the Challenge of the Rag to their campers.
Rags exist as outward symbols of inward goals that campers set for themselves. There are five Rags that campers and CITs may progressively take the challenge for throughout their time at YMCA Camp Immokalee, and two that become available should your camper join staff at 18.
Each Rag presents a different and unique challenge, but all Rags carry the same theme: to become closer to your God (whichever religion that might be, or if none exists, then to Nature); and to take on a personal challenge for growth and improvement. Each color Rag — Blue, Silver, Brown, Gold, and Red — asks the camper to focus on a specific challenge. All Raggers starts with Blue and work their way up.
Rags are unique in that they are given when a goal is set rather than when it is accomplished. Raggers may take as long as they need to complete the Challenge of the Rag — whether that's a single year or several. Ragging is based on each camper's individual pace.
The Ragger's Creed

I would be true, for there are those who trust me;
I would be pure, for there are those who care;
I would be strong, for there is much to suffer;
I would be brave, for there is much to dare;
I would be friend to all – the foe, the friendless;
I would be giving, and forget the gift;
I would be humble, for I know my weakness;
I would look up, and laugh, and love and lift.
The Story of the Ragger
The YMCA's Rags Program began in 1914 at a Y summer camp in what is now Camp Loma Mar in the foothills of the Santa Cruz Mountains of California. Thomas Caldwell, Boys Secretary of the Oakland YMCA, was looking for a way to manage camp discipline problems using position reinforcement.  Instead of implementing the traditional Camp method that rewarded campers for athletic participation and prowess, Caldwell enjoyed the idea of awarding campers for inner strengths: moral character, good behavior, and positive attitude.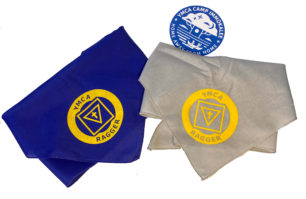 During an evening campfire ceremony, Caldwell presented several deserving campers with simple blue bandanas that he had purchased at a local hardware store for what is now $2.60 each. He called these awards "Rags" because, as pieces of worthless cloth, they had no value. Instead, the Rags gained their meaning from the person wearing them. They served as symbols of the positive qualities the campers had demonstrated-  attributes such as healthy habits, promptness, cheerfulness, morals, dependability and helpfulness. That summer, several outstanding campers also received Red Rags as advanced recognition. And thus the tradition of the Rag began!
Credit: YMCA Blue Ridge Assembly
Becoming a Ragger at Camp
Campers who choose to participate in the program will select a mentor, such as a staff or CIT, to coach them throughout their week at camp and help them choose goals that correspond with the Rag they are aiming for. Their mentor must be of an equivalent or higher Rag. On the Thursday night of camp, Raggers participate in a special Ragging Ceremony where their mentor ties their Rag, thus symbolically accepting the personal challenge the new Ragger has taken on.
The Challenge of the Rag
| RAG | CORRESPONDING CHALLENGE | AGE |
| --- | --- | --- |
| Blue | Loyalty to your God/Higher Power/Nature, country or community, one's best self, and the Raggers' Creed | 12 |
| Silver | The challenge of acceptance or rededication to spiritual growth | 13 |
| Brown | The challenge for service to all people | 14 |
| Gold | The challenge for understanding and concern for others | 15 |
| Red | The challenge of sacrifice of time, talent, and personal will | 16 |
| Purple | The challenge towards excellence and noble living in all service opportunities | 18 |
| White | A Challenge for a Life of Full-Time Service | 21 |
Ragger FAQs
When and where are Rags worn?
You will see Rags on staff and CITs during check-in, and campers are encouraged to wear their Rag Friday after they earned it and at check-out. Some Raggers choose to keep their Rags in spot where they can be reminded daily of their goal, such as on a backpack or even in a sock drawer (since you open it daily).
How old does a camper have to be to begin the program?
Because accepting the Challenge of the Rag is a huge personal responsibility, campers must be 12 years old at the minimum to take on the Challenge.
Does a camper have to be Christian to participate?
Though the Ragger program — much like the YMCA itself — is based in Christian values and principles, YMCA Camp Immokalee firmly believes in our "for all" mission, and thus some of the original language of the Raggers' challenges has been changed to include all religions and creeds, and the program tailored to allow for all belief systems. During the ceremony, some quotes from the Bible will be read; however, non-Christian campers may interpret these as inspirational quotes.
Can a camper serve as another camper's mentor?
Only CITs and counselors over the age of 16 who have an equivalent or higher rag are permitted to serve as mentors.
Where does the Ragging Ceremony take place, and who can attend?
The Ragging Ceremony happens Thursday night at a location on camp property called Ragger's Point. Only mentors, fellow Raggers serving as volunteers, and those having their Rag tied are permitted to attend.
Does the program cost anything?
Ragging costs nothing except a camper's self-discipline and self-motivation toward their chosen goal.