Summer Overnight Camp Dates & Themes
2024 Dates & Themes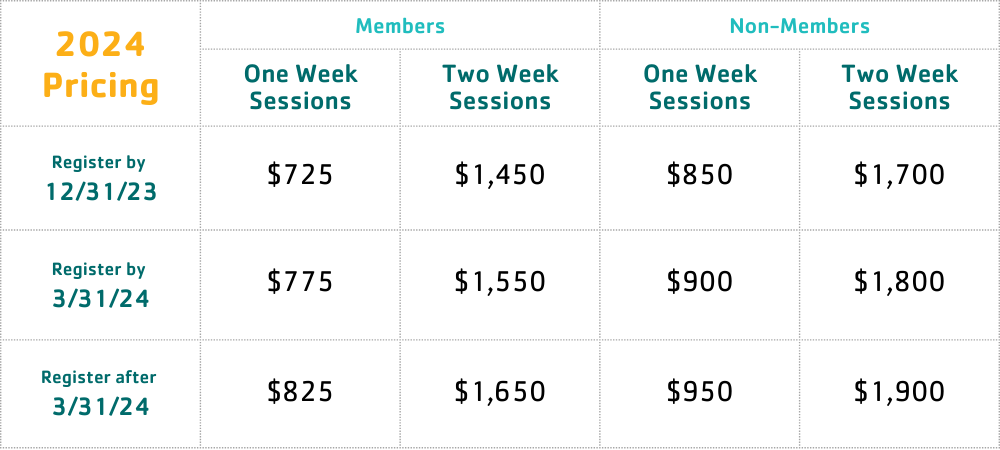 Member Price Note: Only household memberships with the First Coast YMCA qualify for the member rate. Individual, senior, and teen memberships do not qualify. 
One-Week Session Length: Sunday through Saturday (7 day/6 night)
Two-Week Session Length: Sunday through the next Saturday (14 day/13 night)
2024 AGES: Rising 2nd Grade – Rising 10th Grade
Rising 11th and 12th graders may apply for our CIT (counselor-in-training) program. Applications due by April 1 for priority consideration. Summer applications will open on January 16!
2024 SUMMER DATES & THEMES
Please note that two-week sessions cannot be registered as a one-week session. These are sessions intentionally programmed to be two weeks long for every registered camper. 
Session 1: June 2-8 (One Week Session): The Immokalee Games
The newest celebration of Immokalee's community and culture is our first ever Immokalee Games! This week-long series of events, games, and competitions will bring out campers' pride for Camp Immokalee, for their cabin, and for themselves.
Featuring Programs:
Champion's Tug of War

Immokalee Battle Royale

Musical Performances

Festival of Camp
Session 2: June 9-22 (Two Week Session): Water World
Come cool off from the heat of the sunshine state summer at Camp Immokalee's Water World! Anyone who thinks you can't escape the heat by going outdoors, hasn't seen our slip n' slides, water wars, snow cones, pool parties, lake days, or pirate adventures! Oh, and so long as there isn't lightning, catch us out playing in the rain!
Featuring Programs:
Featuring Stayover Trip: Seaworld
Session 3: June 23-29 (One Week Session): Medieval Times
Immokalee will be traveling back to an old age; to a time of elaborate feasts, knights, wizards, grand balls, archers, royalty, and possibly even dragons. We'll be bringing only our most creative, honorable, and brave souls with us to experience this unique week of Summer 2024.
Featuring Programs:
Session 4: June 30-July 13 (Two Week Session): Color Wars: Out of this World
Two straight weeks of Color Wars? That means more points, more flagpoles, more color pride, more cabin inspections, higher stakes, and most of all… more chaos! Who will come out on top this year?
Featuring Programs:
Immokalee Rover / Bottle Rocket Blast Off

Capture the Flag – Alien vs. Predator

Celestial Domination

Lip Sync
Featuring Stayover Trip: Kennedy Space Center
Session 5: July 14-20 (One Week Session): Around the World
The Olympics can't start until Camp Immokalee has kicked it off! Every cabin will represent a country in this week honoring cultures from all over. Embrace new ideas, compete with each other, and celebrate some incredible nations around the world.
Featuring Programs:
Amazing Race

Olympic Games

Opening Torch Ceremony

Cultural Cuisines
Session 6: July 21-August 3 (Two Week Session): Wizarding World of Immokalee
We at Camp Immokalee are summoning all witches, wizards, and members of the magical community to join us for a two-week journey through magical classes, monstrous threats, mysterious riddles, and of course quidditch tournaments! Raise your wands and join your house with the hope to raise the House Cup at the end of the session.
Featuring Programs:
Featuring Stayover Trip: Islands of Adventure 
Session 7: August 4-10 (One Week Session): Color Wars
The grand finale for summer 2024 is Color Wars! Join us for a 1-week sprint to gain the most points in a series of creative, athletic, and logistical competitions. In a week where everything from cabin inspections to pranks is worth points, which color will finish atop the flagpole?
Featuring Programs:
Color Camp

Color Run

Rainbow-Fest
2024 Super Saturday Trips
Super Saturday Trips return to Camp Immokalee this year with journeys to SeaWorld, Busch Gardens, and Islands of Adventure! Learn more about this 2-week session add-on here.
2024 Camp Extras & Camp Store
In addition to our regular camp programming, we also offer Camp Extras to make your camper's experience even more special! Options include Water Sports, Ranch Camp, Trail Rides, and Swim Lessons, learn more about our camp extras here.
Teen Leadership Sessions (CIT)
Our counselor-in-training (CIT) program is designed for rising high school juniors and seniors. This program is a great way to build leadership skills, earn community service hours, and prepare to be a member of camp staff. 2024 information can be found here!
2024 Basic Camp Information
Check-in takes place on Sunday from 2:00 to 4:00 pm. We cannot accommodate early check ins. For late arrivals, please email us at cimmokalee@fcymca.org.

Your camper will receive a specific check-in window prior to their session.

Check-out takes place on Saturday. Pick up will take place between 9:00 and 10:30 am. Stay tuned for exact times for your camper!
Campers can request friends to be in their cabin, and we do our best to accommodate those requests. However, we do have some rules. Cabin requests are not guaranteed unless the request is mutual (made by both campers) and the campers are within one grade of each other. Cabin requests that chain together five or more campers will not be honored.
If your camper has a dietary restriction/food allergy, please note it on your registration (on your Medical Form). If it changes before camp, please let us know. Dietary restrictions/food allergies must be turned in at least two weeks prior to the session, or families will need to send food.
Cancellations received on or before May 1, YMCA Camp Immokalee will refund all fees paid. Deposits will not be refunded after May 1.

Fees above the deposit become non-refundable two weeks from the start of the session.
Exceptions may be made for a full refund in the case of documented medical illness, injury or family emergency and for campers who opt to withdraw because they don't feel that their scholarship award meets their financial needs. Exceptions are made at the discretion of camp leadership.

All session balances and forms are due by May 1.
Campers requesting to change sessions after May 1 will be charged a $25 change fee. Changes can only be made if there is availability in the session a camper wishes to change to.
Financial assistance applies only to TWO single-week camp sessions or ONE two-week camp session. Additional sessions of camp will be full price. Financial assistance does not apply to Super Saturday Trips, camp extras, or camp store.
2024 Registration & Information
Campers who register before May 1 will receive a free backpack and water bottle!
Military scholarships are available to our military families.
Financial assistance is available for those who qualify.